The simple answer is no, but read on.
Although Chapter 7 bankruptcy often discharges many types of debts and helps people gain a fresh start. There is a limited list of debts that cannot be discharged. The non-payment of these debts is typically thought of not to be in the general public's best interest. They generally include:
Child support and alimony (spousal maintenance) or other domestic court orders
Student Loans
Money, property, services, or an extension, renewal, or refinancing of credit, to the extent obtained by false pretenses, a false representation, or actual fraud
Debts owed to a single creditor and aggregating more than $500 for luxury goods or services incurred on or within 90 days of filing
Cash advances aggregating more than $750 obtained on or within 70 days of filing
Personal Injury from drunk/intoxicated driving
Criminal Fines & Restitution
Willful and malicious injury to another or to the property of another
Income Tax debts & certain debts owing to government entities
Fraud/intentional torts
Debts (not Child Support or Maintenance) to a spouse, former spouse, or child that was incurred in divorce or separation through a separation agreement, divorce decree or other order of a court
Debts incurred to pay off non-dischargeable debt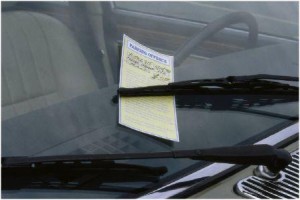 The key here, for traffic tickets, is the fact that certain debts owing to government entities cannot be discharged under the Bankruptcy Code. However, you should speak with an experienced Kansas bankruptcy attorney to determine if any other options are available to you.
For example, in a Chapter 13 bankruptcy you may be able to discharge your traffic tickets. The issue shifts from the fact that you owe a debt to a government entity to whether or not the tickets were of a civil or criminal nature. In a Chapter 13 bankruptcy case civil traffic tickets can be discharged.
Have criminal traffic tickets? That's okay, too. They, like all debt, are still included in your bankruptcy case and may be made a part of your Chapter 13 Plan. It is a lot to figure out, but you do not have to do it on your own. Our Kansas City Bankruptcy Attorneys always offer free consultations and will fully walk you through your situation and the options available. Contact us today!