Friends of JCDS Volunteer Day
On Friday we volunteered through the Johnson County Bar Association to help the Friends of JCDS at one of the homes selected to be on their upcoming Homes Tour. It was a beautiful day to be outside doing some yard work! Together with other members of the Bar over 350 hours of clean-up were conducted on Friday and Saturday!
We encourage you to check it out:
For Immediate Release
Friends of JCDS HOMES TOUR: Sunday, April 26, 2015 1:00 pm to 5:00 pm. This is a friend raiser and a fundraiser that invites the public to tour seven Friends of JCDS houses throughout Johnson County. We want to show the public what barrier free housing can be and also explain our fundraising needs to maintain the houses. Tickets are $10 and can be purchased on line at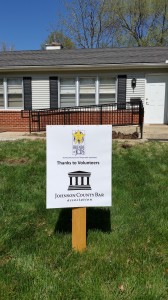 www.friendsofjcds.com/events/
This year we have selected 7 of our homes to be on the tour. They are:
1.  5608 W. 99th Terrace, Overland Park
2.  5738 Mackey Street, Merriam
3.  5242 Bond Street, Shawnee
4.  9141 Hayes Drive, Overland Park
5.  2145 East 154th Street, Olathe
6.  17390 S. Ingrid, Gardner
7.  17371 S. Agnes, Gardner
Beginning in 1997, Friends of JCDS purchased, renovated and maintains eleven homes throughout Johnson County valued over $2 million that are affordable, wheelchair-accessible housing for people with physical as well as intellectual and developmental disabilities. This ambitious project utilizes public and private sector resources to expand low cost, barrier-free housing for JCDS clients. By helping people with intellectual and developmental disabilities realize their rights to live and work in the local community, the private/public partnership creates diversity within Johnson County's neighborhoods and places of employment, helping to build a community of choice where everyone belongs.
For 25 years Friends has been a fundraising partner with Johnson County Developmental Supports (JCDS), a public agency of Johnson County government that provides community-based programs and supports for people with physical, intellectual and developmental disabilities. The vital partnership between the nonprofit fundraising arm and the county agency has helped to make wishes reality for thousands of our friends and neighbors who face daily challenges, hardships and adversity. Friends of JCDS is a 501(c) (3) non-profit charity established in 1990. (FEIN 48-1088092)
Contact: Martha Hagedorn-Krass, Executive Director
Phone: 913-826-2270
Email: Martha.Hagedorn-Krass@jocogov.org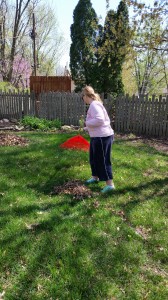 10501 Lackman Road • Lenexa, Kansas 66219-1223• (913) 826-2270 FAX (913) 826-2627• friendsofjcds.com
Powered by: Your Kansas City Bankruptcy Attorneys