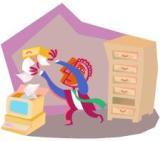 If you hire a Bankruptcy Attorney to file your Bankruptcy case – it will be filed electronically. Since September 1, 2004 all Bankruptcy Attorneys in Kansas have been required to file documents through Electronic Case Management / Electronic Case Filing (CM/ECF). This allows Bankruptcy Attorneys to file and have access to records 24 hours a day.
There are various practices and procedures that users must be aware of when using ECF as established by Local Bankruptcy Rules. For example, your social security number must be redacted from all filed documents. All filers must complete ECF training, as such; generally only Bankruptcy Attorneys and Bankruptcy Trustees receive ECF accounts. However, it is possible to become a limited filer.
After you have met with your Bankruptcy Attorney to review and sign your Bankruptcy Petition, Schedules, and Related Documents; your Bankruptcy Attorney will format your case for ECF. She will then log in to ECF to begin the filing process. Step-by-step your Bankruptcy Attorney will provide your information under the correct heading and upload your documents to complete the filing.
Next, if you have checked 'Filing Fee Attached' on your Petition, your Bankruptcy Attorney will pay your Bankruptcy Filing Fee to the Clerk's office.
Automatically, notice of the filing is generated. Your Bankruptcy Attorney and other parties in the case will receive notice of the bankruptcy filing and related events throughout the pendency of your case. This allows your Bankruptcy Attorney to keep you up to date on the status of your Bankruptcy case. Our Kansas City Bankruptcy Attorneys are happy to forward the ECF notices we receive to our clients via email so they can have the most up to date information in the timeliest manner.