Bankruptcy is a complicated process, our Kansas City Bankruptcy Attorneys will help you throughout the entire process
Thank you for joining us in viewing this eight-part video series on the Basics of Bankruptcy, as provided by the U.S. Courts.
If you are struggling with debt problems and would like to know more about how bankruptcy may be able to help you in your specific situation,
contact us today for your FREE bankruptcy consultation.
Click to learn more..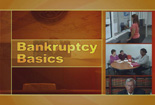 First, we will listen to you as you explain your current situation. Then we will ask you some simple follow up questions about your income, expense, assets and debts so we can help you decide if bankruptcy is the best option for you. There is no obligation.
Case Evaluations are 100% confidential and in plain English.
Our Bankruptcy Attorneys are here to assist you in your quest for financial freedom.