What does Pre-petition vs. Post-petition debt mean in a Bankruptcy?
Pre-petition debt is all debt that you have incurred prior to your bankruptcy case being filed. You must list all of your Creditors and debt when you file bankruptcy. Pre-petition debt is the debt that we are expecting to be discharged as part of your bankruptcy case. This can include everything from credit card and medical debt, personal and payday loans, to foreclosure and repossession deficiencies.
Post-petition debt is all debt that you incur after your bankruptcy case is filed. These debts will not be a part of your bankruptcy case and cannot be discharged. You are still liable on this debt and must pay for it. The bankruptcy cannot help you with post-petition debt.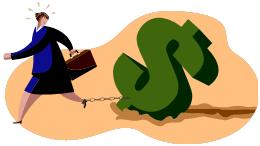 The hope when filing for bankruptcy is to be able to start over with a clean slate. In a Chapter 7 Bankruptcy, if you continue to incur debt after your bankruptcy case has been filed you may find that you still do not have enough funds to support your budget.
In a Chapter 13 Bankruptcy, you may not incur additional debt without Court permission. Doing so, will put your case at risk of being dismissed and again not allow you to take full advantage of the bankruptcy relief you have sought.
With this in mind, all Debtors must take two courses. One is a Credit Counseling Course which you take before you file for bankruptcy. This will help you take a closer look at your budget and determine if bankruptcy is the right course for you to take. The second course one must take is a Debtor Education Course. This course is taken after your bankruptcy has been filed and will guide you to ensure that your bankruptcy not only provides you with temporary relief from creditor calls, but with long term financial stability.
If you do incur additional debt after you have received a bankruptcy discharge, you will have to be careful when dealing with your creditors. Although they cannot legally collect on debt that was discharged in your bankruptcy, it may be up to you to distinguish what was discharged and what is currently due.
If you are not sure if Bankruptcy is right for you or if it is time to file again, our Kansas City Bankruptcy Attorneys always offer FREE initial in-office consultations. Call or Email us today!