YOU ARE HEREBY SUMMONSED TO JOIN THE LEGAL COMMUNITY IN PARTICIPATING IN THE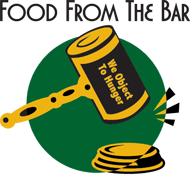 DONATE CANNED GOODS, CEREALS, PEANUT BUTTER, OR CHECK MADE PAYABLE TO:
Community and Family Support Services, Inc. ("CFSS,Inc")
Failure to respond will result in 1 in 4 children continuing to go hungry, elderly and families remaining in need, and our local food bank shelves going empty.
The Kansas Women Attorneys Association has organized the legal community to fight hunger in Kansas with a statewide food drive. We kickoff the food drive TODAY, April 30 and it will run through May 25, 2012. In Johnson County, the Food From the Bar Campaign will raise funds and food for the Blue Valley Multi-Service Center pantry. In Wyandotte County, the food will benefit Cross-lines.
For every $1 donated, food banks typically can distribute food up to 4 meals. Your community desperately needs your participation in Food From The Bar Campaign. The demand for food assistance threatens to strip our food banks' shelves. Please join us in raising funds and donating food.
Donation bins can be found throughout the State. If you are in the neighborhood, drop by our office to make a donation — we would love to say "Thank You" in person.
Blog Post Powered By: Your Kansas City Bankruptcy Attorney