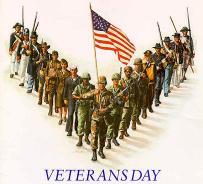 Our office will be closed on Friday, November 11, 2011 in observance of Veteran's Day.  A day off is always a welcome treat; however, we believe it is important to remember why businesses close on this day a few weeks before the Thanksgiving holiday.
The purpose of Veteran's Day is to have a day when the entire country comes to together to honor and thank veterans for their service to our country.  The national ceremony is held at Arlington Cemetery at 11:00 a.m.  You may be able to attend a local ceremony in your community at a Veterans of Foreign Wars (VFW) post.  Fort Scott National Cemetery in Kansas will hold a ceremony at 11:00 a.m. and 2:00 p.m.
Veteran's Day has always been observed on November 11th except between 1971 – 1975. The significance of the date November 11th dates back to World War I.  Veteran's Day replaced Armistice Day as a legal holiday on June 1, 1954.  A complete history of Veteran's Day can be found at the Department of Veterans Affairs.
Walden & Pfannenstiel, LLC would like to thank all veterans and their families for their selfless service and patriotism.
This blog is powered by your Kansas City Bankruptcy Attorneys.