Expect your Kansas City Bankruptcy Attorneys to continue to guide you through the Bankruptcy process —
You will be fully prepared to meet with the Kansas Bankruptcy Trustee assigned to your Bankruptcy case!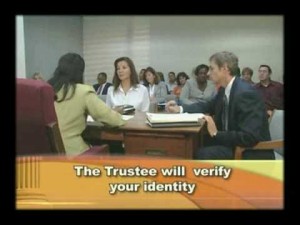 After your bankruptcy case has been electronically filed in Kansas, a 341 meeting (Meeting of Creditors) will be scheduled. This meeting will be held approximately four weeks after filing your bankruptcy. Your case will be called from a docket, meaning other cases will also be called during the scheduled time. Generally, the 341 meeting is a fairly quick process, following a set procedure.
In Kansas City, it will be necessary for you to bring a Photo ID and Proof of Social Security Number for your 341 meeting. As a side note, you will need your Photo ID to get in to the Federal Building and electronics are NOT allowed.
It is a good idea to arrive 15 minutes early to your 341 meeting. This will give you an opportunity to hear what types of questions are being asked by the Bankruptcy Trustee. It will also give your Bankruptcy Attorney a chance to speak with you regarding any final issues.
Your assigned Bankruptcy Trustee will record the 341 meeting. After turning on the tape recorder; he will introduce himself, explain that you need to speak clearly when answering the questions, and state the date. He will then begin calling the cases on the docket and ask if there are any Creditors present.
When your case is called, you will approach the Trustee, present him with your Photo ID and Proof of Social Security Number, and then have a seat. He will then verify that the documents you provide (such as your driver's license and social security card) match the information previous provided on your bankruptcy petition and state the same on the record.
He will next ask you to take an oath to tell the truth. You will need to raise your right hand. He will ask you to swear or affirm the testimony you are about to give is the truth, the whole truth and nothing but the truth. You must say 'yes' aloud.
In a Chapter 7 Bankruptcy case in Kansas City, your Bankruptcy Attorney will then ask you a series of questions. If you have filed a Chapter 13 Bankruptcy Case in Kansas City then the Bankruptcy Trustee will proceed with the same following questions:
1. State your name and current address for the record.
2. Did you sign the petition, schedules, statements, and related documents and is the signature your own? Did you read the petition, schedules, statements, and related documents before you signed them?
3. Are you personally familiar with the information contained in the petition, schedules, statements and related documents? To the best of your knowledge, is the information contained in the petition, schedules, statements, and related documents true and correct? Are there any errors or omissions to bring to my attention at this time?
4. Are all of your assets identified on the schedules? Have you listed all of your creditors on the schedules?
5. Have you previously filed bankruptcy? (provide trustee with case number and the discharge information to determine discharge eligibility in this case)
6. What is the address of your current employer?
7. Is the copy of the tax return you provided a true copy of the most recent tax return you filed?
8. Do you have a domestic support obligation? To whom? Please provide the claimant's address and telephone number, but do not state it on the record. Are you current on your post-petition domestic support obligations?
9. Did you read the Bankruptcy Information Sheet provided by the United States Trustee?
After these standard questions have been asked, the Bankruptcy Trustee may then ask any additional questions he may have either regarding the testimony that you gave and/or information that was provided in your bankruptcy file. He may also ask for further documentation. During your free bankruptcy consultation, your Kansas City Bankruptcy Attorney can let you know what type of follow up questions to expect in your case. Because we strive to resolve all key issues prior to filing, generally no further action is required and your meeting will then be concluded.