You may be surprised!
This is a common question and concern for those considering bankruptcy as an option to relieve their debt stress. You may be surprised to find that the damage may not be as bad as you think and that it is possible to rebuild your credit.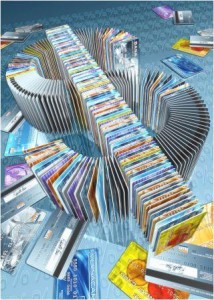 A Chapter 7 bankruptcy involves the collection and liquidation of non-exempt assets. The proceeds of the non-exempt assets are distributed to your unsecured creditors. This is typically a fairly quick process unlike a Chapter 13 Bankruptcy which is a 3 – 5 year repayment plan. There are several differences between these two chapters of bankruptcy including how they affect your credit report.
Both types of cases will be reported under the public record section of your credit report. This same section of your credit report is where court cases involving creditor judgments are listed. A bankruptcy case will be reported in the public records section for 7-10 years depending on the bankruptcy case filed. The creditors that are listed in your bankruptcy case and are later discharged in the bankruptcy will still appear on your credit report. These accounts will be marked "Included in Bankruptcy."
Chapter 13 bankruptcy appears for 7 years
The bankruptcy will be deleted from the public records section 7 years from the filing date of the bankruptcy case
Chapter 7 bankruptcy appears for 10 years
The bankruptcy will be deleted from the public records section 10 years from the filing date of the bankruptcy case
For many that are suffering from financial burdens their credit has already taken a hit due to late payments, judgments, high balances, and charge-offs. If this is the situation, your credit score may only be slightly lower, the same, or even possibly a little higher! Bankruptcy will provide you and your credit report with a fresh start. As mentioned above, your bankruptcy filing will be listed – this is instead of those judgments or high balances, equalizing your report.
During your Chapter 13 bankruptcy case, you will have the opportunity to raise your credit score with each monthly on-time payment you make during the pendency of your case. If you are able to file a Chapter 7 bankruptcy case, you should be able to start working to rebuild your credit in a matter of months due to the typically short duration of these cases.
While many are concerned about their Credit Score and Report there are many factors to consider regarding filing bankruptcy in Kansas City. Contact us today for your free consultation!
This Blog Powered By Your Kansas City Bankruptcy Attorneys